The first law of plant growth is light.  Typically this light comes from the sun at an incredible intensity of up to 100,000 lux (lm per square meter).  Different plants have different sunlight requirements.  Typically these are categorized as "full sun" or "partial sun" plants.  Full sun plants require at least 6 hours of direct sunlight per day (30,000 – 100,000lux).  Partial sun plants need about 3 – 6 hours.
Winters in the Oregon Portland area are dark.  So dark that humans suffer from the lack of light.  This condition is known as Seasonal Affective Disorder.  Most of this period is dominated by overcast clouds which reduces the light to about 1000 lux.  That's 3% of the minimum  light required for full sun plants.  To grow food all year round, we are going to have to compensate for this lack of light.
There are many different types of artifical lighting.  The most power efficient of which are LEDs.  The problem with LEDs is that they typically have a very narrow range of light.  To make white, LED's combine 3 diodes with some red, green and blue.  The human eye sees these three as white.  It cannot perceive the gaps in the spectrum that the LEDs do not transmit.

White LED from Cree (TM)
http://www.cree.com/~/media/Files/Cree/LED%20Components%20and%20Modules/XLamp/Data%20and%20Binning/XLampXTE.pdf
Other light sources cover a lot more of the light spectrum.
Given that lights light incandescent lights have a wider spectrum, why use anything else?  The answer is, plants don't need all that light.  Plants use light in the blue and red spectrum and reflect the green and yellow spectra.  That means that any grow light that includes these wavelengths are wasting energy.
LEDs for growing
LEDs for growing do not have the green diodes.  This makes LEDs, which are already the most efficient artificial light source available even more efficient for growing.  While you can purchase may LED-based artificial light solutions, I set out to build my own in such a way that I can control the amount of light my plants get based on sunlight.  If there is full sun, I don't need to activate the lights.  If there is less than full sun, I can adjust the brightness of the LEDs to compensate.
I found some grow LEDs on ebay for a decent price from the seller sungrowled.  These are 30W but I have also used the 50W variants.
To keep the LEDs cool, I picked up a 36 inch aluminum strip and mounted 6 LEDs evenly spaced on the surface.  I used thermal adhesive to mount them.
On the ends of the strip, I drilled a 3/8″ hole and attached something I could attach to some rope to hang.
I then wired up the LEDs in parallel.
The aluminum strip helps spread the heat, but probably will still get to hot.  To increase the surface area for cooling, I used the thermal adhesive to attach some aluminum heat sinks to the top of the strip opposite of the LEDs.  This unit will be passively cooled.
Power
Six 30 Watt LEDs run at a total of 180W.  Amazon has a bunch of adjustable current/voltage power supplies from Drok.  Oddly, the power supply ratings seem to go from a few watts to 100W  and then jump to 300W and then to 600W.  Really?  No 200W?  Sigh.  I grabbed the 600W power supply version.  To supply the AC power, I picked up a 300W 24V AC to DC converter.
What's nice about the Drok power supply, is that I can supply constant voltage AND constant current.  LEDs have an upward sloping current draw relative to the forward voltage.  This means if you oversupply voltage, it'll draw enough current to burn out.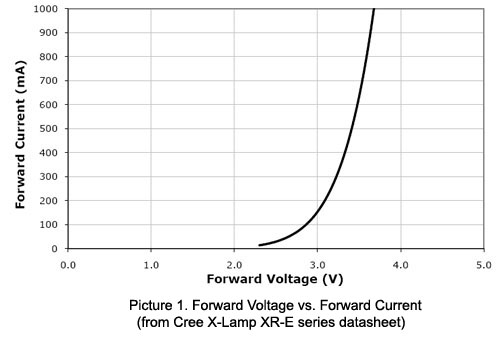 Typical ways to drive LEDs include supplying a constant current, so that you can safely over drive the voltage, a resistor which will also limit the current, or constant voltage.  If you never go over the volts, the current draw will be just fine.  With this Drok boost converter, I have POTs that I can dial both.  I started at 24V and slowly adjusted both the current and volt POTs until I read about 170 Watts on the kill-o-watt.  Waddayaknow!  It worked!  It's really… really bright too!
To finish off the light power, I put both the Drok buck boost converter, the AC-DC power supply, a couple fans, and  Drok buck 12 power supply in a nice case and mounted it in the redhouse.
Light Controller
At the moment, our lights are dumb.  They turn on and off manually and do not care about sun.  We need a smart controller.  I used the Particle Photon, which is a cheap wifi-enabled MCU that's only $20.  I've been using the photon a lot lately.  This is actually the third unit inside the Redhouse and I plan on using at least one more.  We also need a sensor to measure how much light we are getting from the sun.  I had an SI1145 sensor breakout from adafruit laying around so I used that.
To control the LED brightness, I use a MOSFET.  By modifying the signal's pulse width on the MOSFET gate, I can control the voltage allowed to pass through the MOSFET.  I wired everything up, wrote a few lines of code using the Particle builder and this is what came out:
The light sensor won't work without light, so I need a case with a clear lid.  I found a waterproof project case on amazon that had a clear lid.  Perfect.  I installed the board in the case, wired it up, and installed it in the Redhouse.
---
Conclusion
How much did this cost me?  I try not to think about it, because I'm not building to necessarily save (although, I believe I am).  Here's a list of components and their costs:
LED Light:
6 x 30W LEDs –  ebay seller sungrowled – $77
Aluminum strip and screws – home depot – $15
24V AC-DC 350W converter – Amazon.com – $35
Drok 600W buck boost converter – Amazon.com – $21
5 x aluminum heatsinks – Amazon.com – $25
Power enclosure – Amazon.com – $30
Grow light hanger – amazon.com – $10
Controller:
Particle Photon Wifi MCU – particle.io – $20
SI1145 visible light sensor – adafruit.com – $10
MOSFET n-channel – sparkfun.com – $2
Total: $245
For comparison, you can get a nice (but dumb) 160W grow LED for about $350.  No wifi/internet control.  No smarts.
I think I saved some bucks and get more features.  Here's the final product growing some nice Roma variety tomatoes:
Do they work?  Early indications suggest they do.  The plants under the light look more lively.  One plant NOT under the light has a livelier branch under the light where the other branches are not as lively.  So, pending future observation, I conclude, it works.  I only have 2 more of these to make :).